Fall Arizona Restaurant Week 2018 – A Fun Dining Experience in Phoenix, AZ
Written By: admin / 08 / 18 / 2018
Arizona Restaurant Week 2018 will be having a grandeur event coming this Fall, September 21-30!
This Arizona statewide event gives foodies out there a wide range of dining opportunities. And a chance to go out of their homes. You can also try out something new in terms of different cuisines they can enjoy. You can fill up your tummies from different sizzling Southwestern cuisines. There are also soothing comfort foods you can crave for.  There are also five-star dining and international fare experience that you and your entire family will surely enjoy.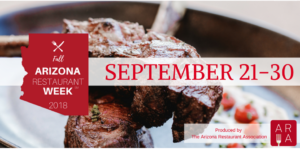 Some participating restaurants for this spectacular week are Chart House, The Keg Steakhouse + Bar and Ruth's Chris Steak House.
Chart House will give you the best seafood cuisine you can find in Arizona. You will get a chance to have an awesome view of the Camelback Mountain and Camelback Lake while enjoying their delicious menu items. Some of their best sellers are Macademia Crusted Mahi, Alaska King Crab and East Meets West Tuna.
The Keg Steakhouse + Bar offers you the variety of steak and seafood. You will surely experience their mouthwatering steaks and delicious seafood while enjoying the vibe with family and friends. Some of their best sellers you will die for are Prime Rib & Shrimp, Filet Mignon and Rib Steak.
Ruth's Chris Steak House gives you the best steakhouse cuisine you will truly enjoy. Only the best USDA Prime steak can be found here at Ruth's.  You will also enjoy the award-winning wine list while craving up for their best steaks. Some of their best sellers are Steakhouse Salad. Petit Filet and 6oz. Filet and Shrimp.
You can travel to any restaurants with Lyft as their partner.
Check out the other participating restaurants in this link or click the image above.
So prepare your taste buds as you dig in to various cuisines for the entire week!
Hits: 216
---
From The Blog
---
---
Newsletter
Sign Up for Our Newsletter:
Popular Topics
If you're like many homeowners, you consider the patio an extension of your home. So it's fair to ask: Would you be just as comfortable nestled in with (more…)
Hits: 227
---
Before you spend money on the latest energy-efficient gizmo that's supposed to save you money let's look at some energy saving ideas that will really help you save home energy. (more…)
Hits: 240
---